Day 27 – Castletown to John o' Groats – 14.0 miles
Finished!
After 27 days, 943.7 miles and 1.5 million pushes, we've made it to John o' Groats. Thanks to everyone who supported us along the way, to all the companies that provided us with our kit and to everyone who donated and helped us raise over £20,000 for our amazing charities.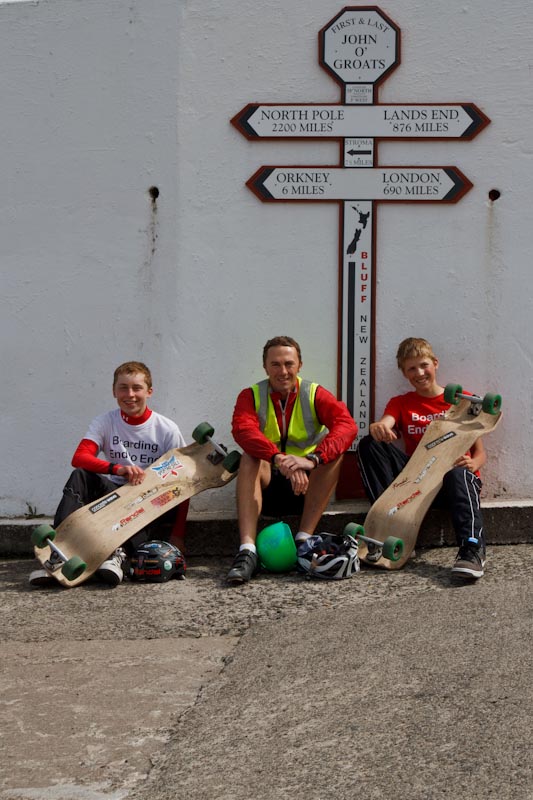 Day 26 – Just north of Syre to Castletown – 43.8 miles
Today was once again sunny and for the first time we were rewarded with a strong tailwind which helped to pull us up some of the hills and make our journey that little bit easier. We stopped for an early lunch on a beach that was recommended to us the night before but as soon as we arrived it began to rain, so we sat down on the sand and ate soggy sandwiches with a sandy crunch. We managed to get another 25 miles done after lunch and set ourselves up for a short day tomorrow. Nearly finished now and we cant wait to reach John o' Groats. Michie wants everyone to know that twitter is not working and that is why there is a lack of tweets.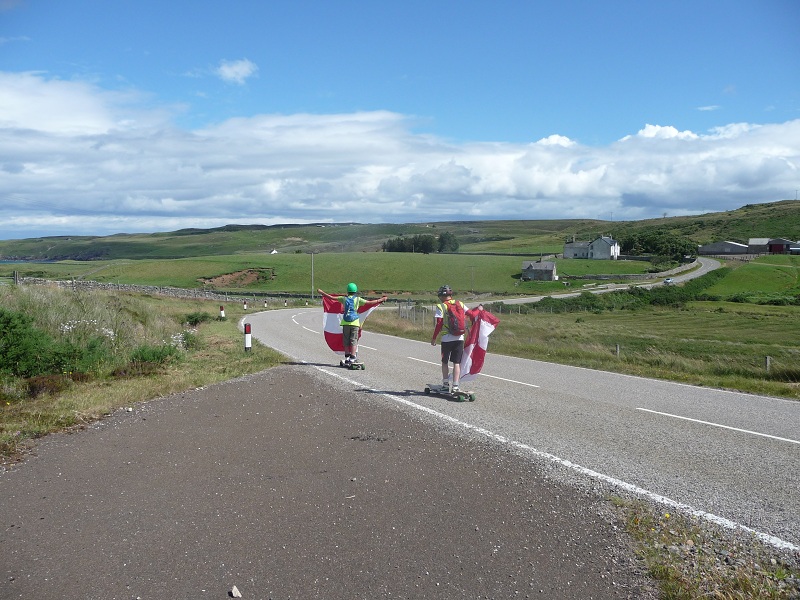 Day 25 – Inveran to Just north of Syre – 43.6 miles
More sunshine in Scotland. We followed the river along a beautiful road north of Inveran. Lots of progress was made in the morning and we passed Altnaharra. We stopped for a picnic lunch by Loch Naver and had a team swim. We covered another 14 miles in the afternoon through some epic scenery. Thank you to the Brookes family for having us to stay in their beautiful house. We especially enjoyed showing the girls how to long board on the drive! Can't believe how close we are. Roughly 60 miles to go.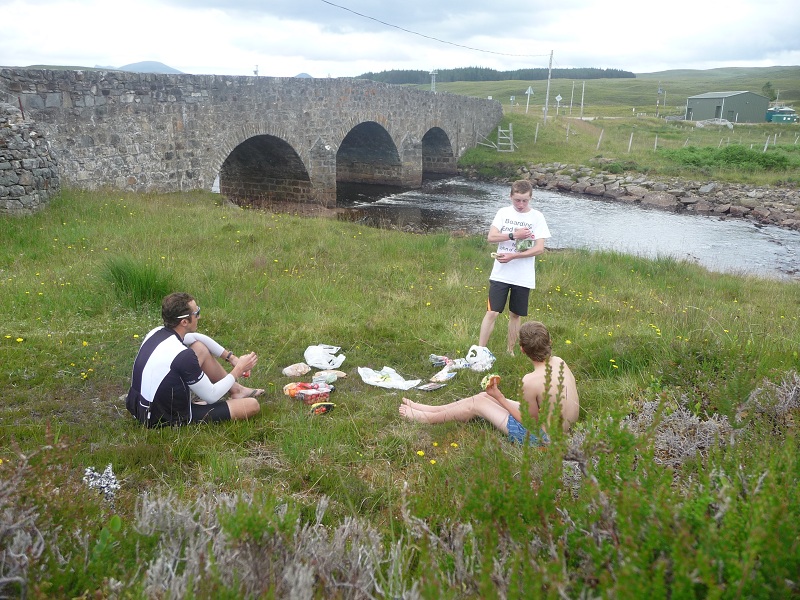 Day 24 – Inverness to Inveran – 44.3 miles
A late start today. Staying in a brewery doesn't make early mornings easy. A tip top fried breakfast got us on the road though. We picked up the North Coast cycle route from Inverness and headed towards Cromarty bridge. After Alness we climbed gradually and were rewarded at the top. Possibly our most scenic downhill section followed which we managed to record to make a video. Despite the late start we made it to Inveran, clocking up another 40+ mile day. Thanks to everyone at Blackisle Brewery for hosting us, the food and beer was delicious. We're glad we could help by finding George the tortoise in the vegetable garden.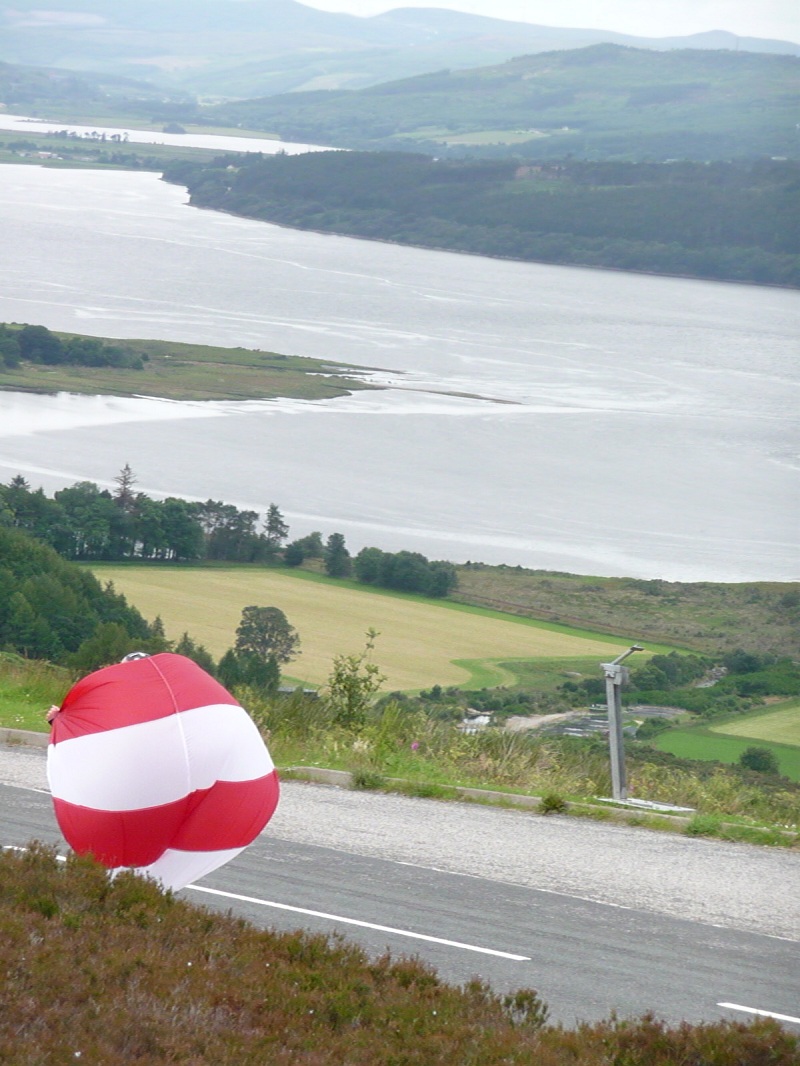 Day 23 – Kincraig to Inverness – 43.3 miles
Yay sunshine finally! We packed up for the car as we've left Auchleeks and are back on the road again. We hit the national cycle route for most of the day and luckily the surfaces were smooth. We took advantage of the sun and had a picnic on the side of the road for lunch. We had to wake Jamie from a deep sleep to get going in the afternoon. To Lawrence's delight we came across some Welshies on a tandem in the afternoon. However, he was highly embarrassed when they asked him in Welsh where he was from and he didn't have a clue what they were saying. We passed the Colloden battlefield and winded down to Inverness in rush hour, stopping just over the bridge for the day. The end is close! Hopefully the nice weather sticks around for an enjoyable finish to the week.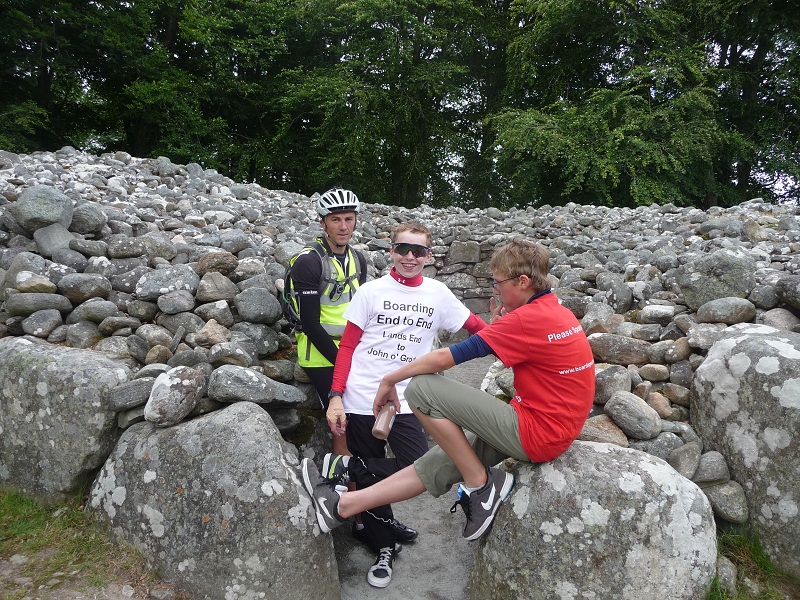 Day 22 – Trinafour to Kincraig – 38.3 miles
Today we woke up with less good weather to look forward to. We got going after a big breakfast and made our way to the cycle path which runs beside the A9, the surface however was awful and we made very slow progress for the first two hours . But when we were only a couple of miles from Dalwhinnie we had our worst fall on the trip so far, Alfie hit a rough patch before a bridge and fell off his board managing to graze his hands and elbows but despite the fall Lawrence (the teams qualified first aider) was delighted with the chance to show of his skills to the rest of the team. We decided not to stop for lunch at a pub but to keep going and get back to Jamie's home for a late lunch, our plan went well and kept the team motivated for the rest of the day. Despite the fall we had a good day and we even had a mention on the local radio.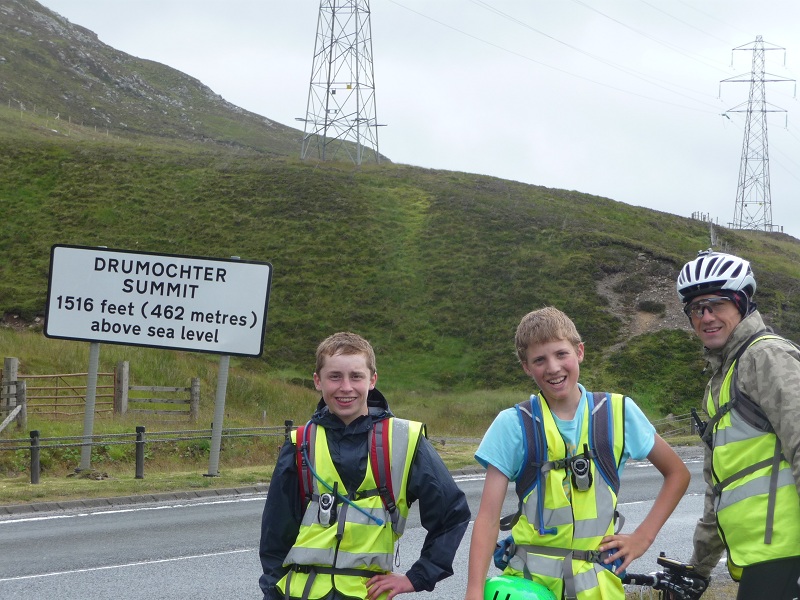 Day 21 – Tummel Bridge to Trinafour – 4.8 miles
Unfortunately Jamie was feeling really ill last night and didn't feel much better this morning. His determination cannot be doubted as he forced himself to get out and try to skate today. We made it over a very long climb and dropped down into Trinifor. At the bottom of the hill we made a collective decision that continuing today might jeopardise Jamie's chances of making a decent recovery. We've had our feet up watching the Tour De France and are sure tomorrow we will crack on. It's amazing that with Jamie and Alfie both being ill during this trip that we are still ahead of schedule!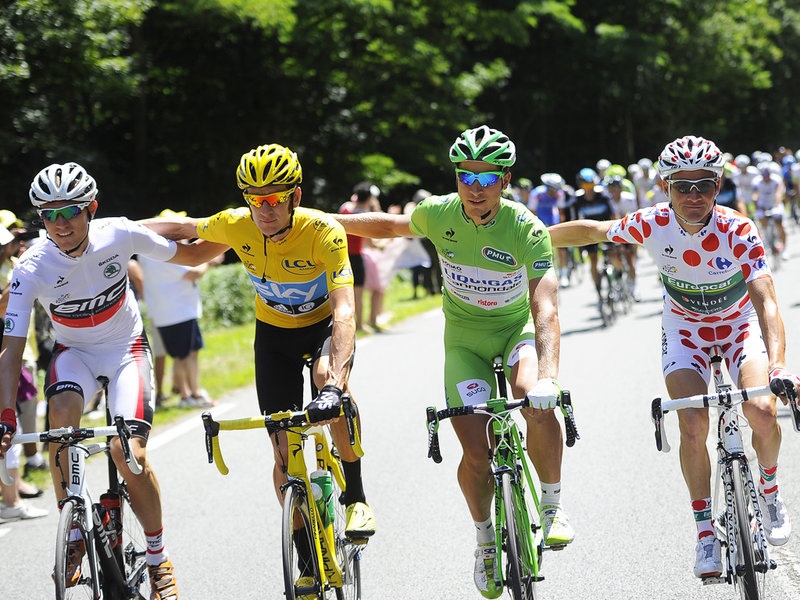 Day 20 – Braco to Tummel Bridge – 43.4 miles
We set off on what was probably the sunniest day of the trip so far. We made it to Crieff early on and spirits were high but then we experienced our first mechanical problem, Lawrence's bikes wheel stopped working and he could no longer cycle with Alfie and Jamie. While Lawrence was trying to get his bike fixed Alfie and Jamie continued to skate motivated by a BBQ beside Lach Freuchie. After an amazing lunch Alfie and Jamie continued alone and managed to conquer two massive climbs and two huge descents, a big thanks to our sporting sails for saving our shoes on the quick downhills. We finished the day close to Jamie's house and only had a short drive to get there. Lawrence was dropped off where his bike broke and was forced by Angus to cycle all the way home. A big thanks to Tim and Lisa for hosting us the night before.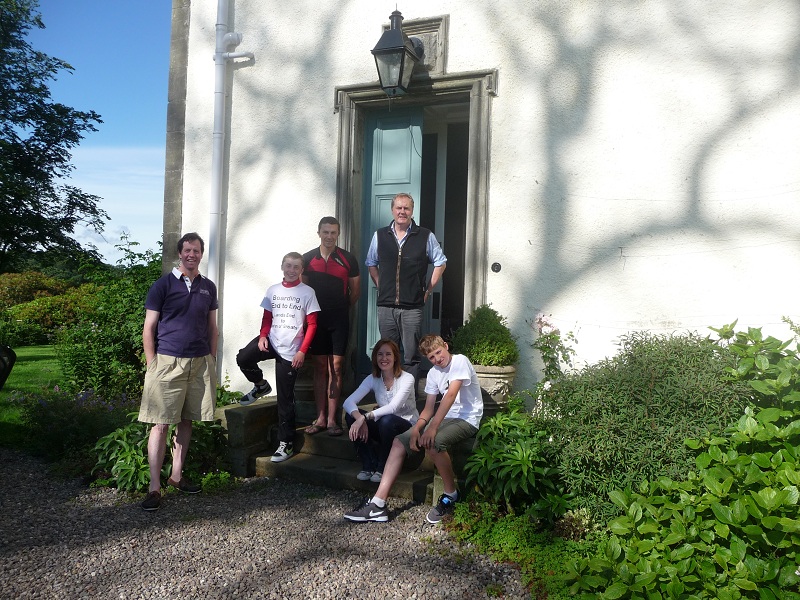 Day 19 – Fauldhouse to Braco – 40.5 miles
Another clear day in Scotland. Angus joined us on a borrowed mountain bike and managed to keep up remarkably well. We skated some really nice quiet backroads in the morning and had some brilliant surfaces to help us get close to Stirling before lunch. Angus began to feel the pace and had to stop for a lie down on the pavement complaining his 'arse was like a baboons.' if the rip in his trousers was any bigger we would of seen this for ourselves. We stopped in Pizza Hut in Stirling and the staff were delightful. We're very grateful for the free lunch and donations made! The team (minus Angus) hit the biggest climb of the trip so far up Blairedenon Hill, a monster! Luckily the other side wasn't too steep and we glided down to Braco. A big thanks to the Lukas family for hosting us in their house last night.
Day 18 – Somewhere on the B7076 to Fauldhouse – 40.3 miles
We all had an amazing night sleep in Springkell House and were pleased that it wasn't raining this morning. Thanks to James Johnson-Ferguson for hosting us in his marvelous house. Luckily after Biggar we found a really smooth road and passed Biggar before lunch. It was really nice to see Diana and Thomas for lunch and have them follow us for some of the afternoon session. As we got further north we hit some rolling hills but nothing to steep, the worst is still to come. Another 40 + miles covered and we managed to stop before the rain started, a good day!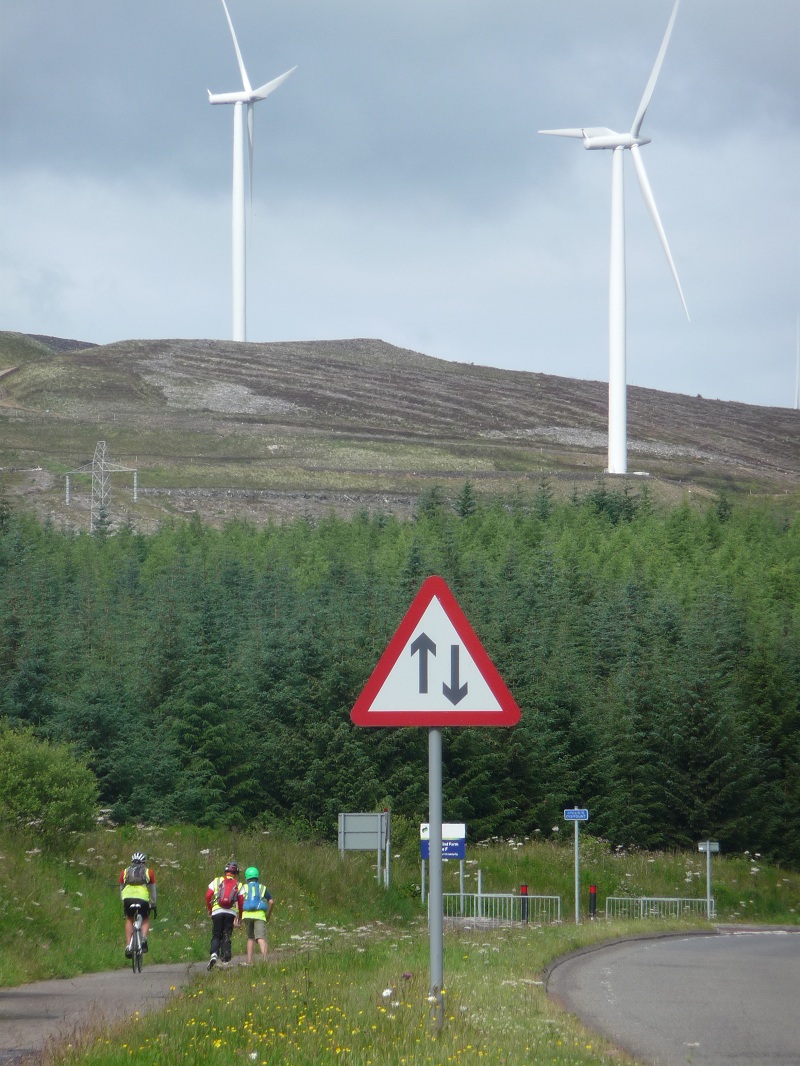 Day 17 – Gretna to somewhere on the B7076 – 41.2 miles
Our first day in Scotland it has to be said was a boring one. We spent almost all day on the B7076. We deviated briefly near Beattock in search of some smoother road but this only lasted for a few miles. The road surface was tough going but we plodded on. Lawrence resorted to singing some S Club 7 to keep Alfie amused. A big thanks to Fo and Patrick for hosting us last night and for providing us with an amazing roast. Not a lot to report, more B7076 through Biggar and beyond tomorrow
Day 16 – Shap - Gretna – 38.2 miles
The rain stayed away today and Alfie was feeling much better this morning. We got to Penrith in good time and headed on to Carlisle for lunch. We found a great road alongside the A6 with a brilliant surface and no traffic, we averaged nearly 10 mph the whole way. With the Scottish border on the horizon there was certainly a spring in Jamie's step in the afternoon session. Arriving in our final country is a huge morale boost for the team.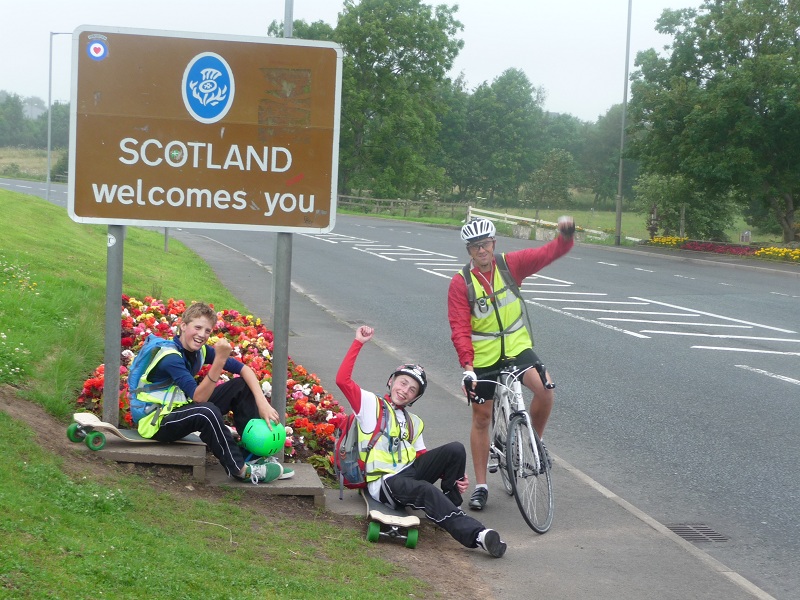 Day Burton in Lonsdale to Shap – 32.0 milesIt was really nice to be able to skate straight from the front door this morning. It meant we were rolling by 9.30. Unfortunately, it started raining five minutes into the day and didn't stop until half an hour before we finished in Shap, it seems to be following us! Some confusion between miles and kilometres made us believe we had made incredible progress by lunch. It was a delight to have Father Henry travel to see us before our afternoon session and all he had was an orange juice before the long drive back to Ampleforth. Thanks to Ed and Billy for hosting us in their lovely house last night. Also thanks to Mr Stott who generously gave us £20 on the backroads to Middleton. And poor Alfie was feeling ill again, hopefully will be better tomorrow. Tonight we are staying in the wilds of Ravenstonedale in Lytheside cottage thanks to Annie and Tom.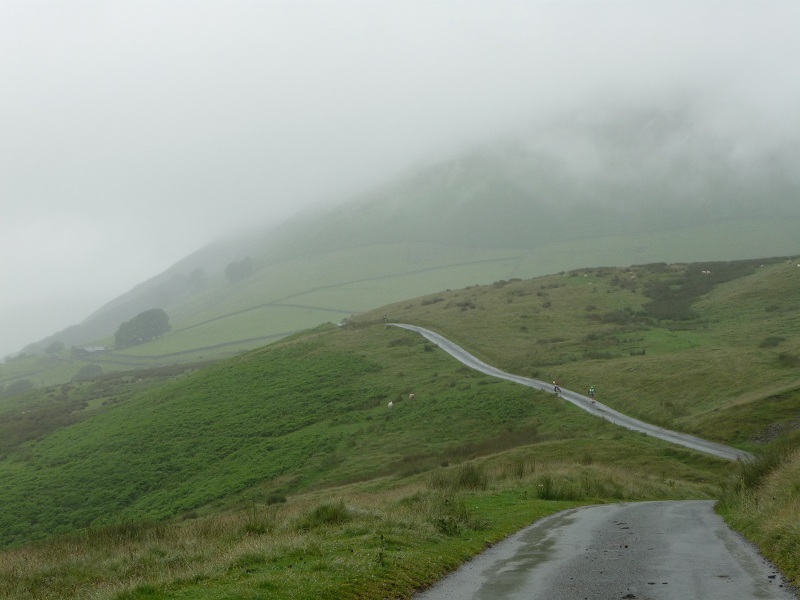 Day 14 – Samlesbury Bottoms to Burton in Lonsdale – 38.1 miles
We knew Lancashire and Yorkshire would offer some tough terrain. Luckily we had been fuelled by a MASSIVE chinese last night. The cloud cleared and we had a cool, breezy and dry day. We stopped for lunch at Whitewell and said goodbye to Dan and hello to Michie our new support vehicle. Emma and Lara also joined us for the afternoon. Their timing was perfect as their support made the biggest climb of the trip more bearable. We got to use the sails on some great rolling hills today and managed to skate right up to our accommodation for the evening. A huge thanks to Dan for all your support over the last two weeks. More epic scenery on the route tomorrow which makes the climbs worth it.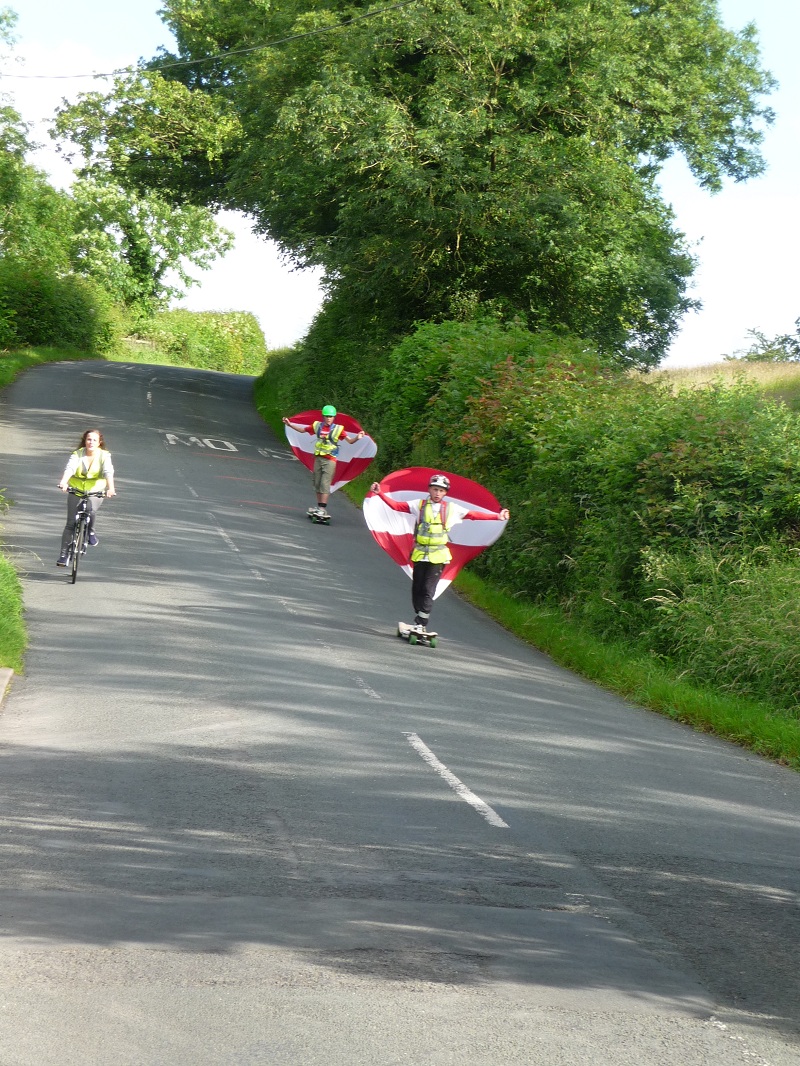 Day 13 – Lymm to Samlesbury Bottoms – 37.4 miles
Today was a sunny day which we really enjoyed and it set us off in good spirit as we headed for the bridge over the Manchester Ship Canal. Sadly drivers were not as happy to see us as we would have liked with a lot of cars shouting abuse as we trundled along. Usually it's just Alfie who gets beeped at, but today Jamie was the one who was verbally attacked, Jamie getting more and more angry and Lawrence sharing his frustration. We started the day at 9:30 and made a great start covering 24 miles before lunch but as we reached the slopes of the Pennines progress slowed considerably. Tomorrow we head up through Slaidburn.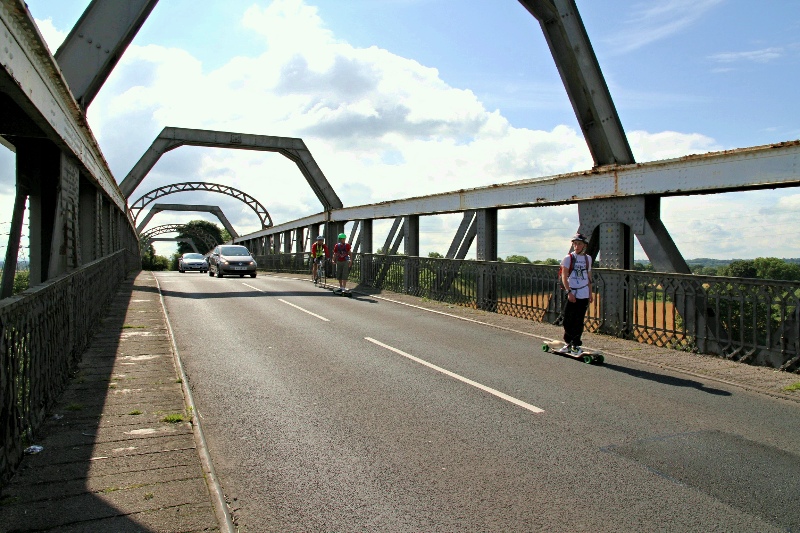 Day 12 – Tilston to Lymm – 34.3 miles
Rain rain and more rain; it didn't stop, but we made great progress. Best of all, we were far from the slowest on the road as we overtook a traction engine on it's way to a steam fair. We received more donations from kind people on route including one woman in Great Budworth who not only made a donation, but also offered us all a bed for the night! Jamie is now on his fourth pair of shoes – the third pair has large holes. Tomorrow we will make our way up to Chorley through the metropolis between Manchester, Warrington, Bolton and Wigan.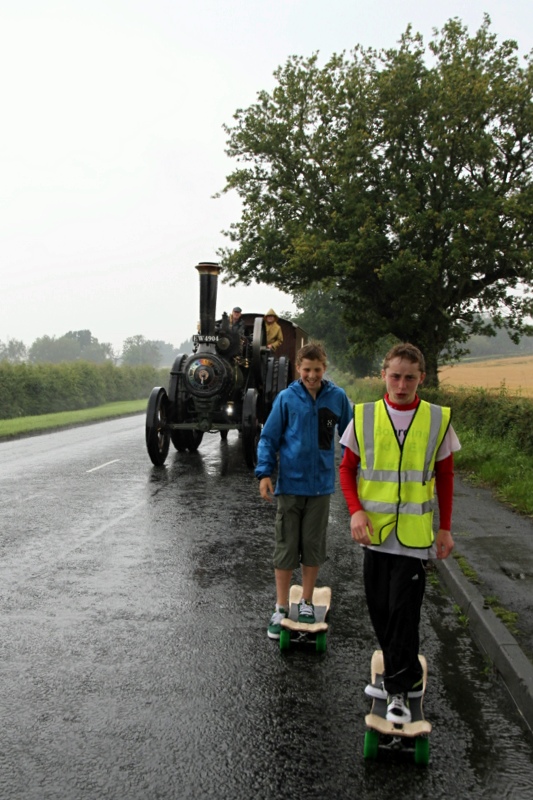 Day 11 – Broadstone to Tilston – 51.0 miles
Today was the longest day that we have done so far, the road surfaces were good and the hills were few and far between so we managed to get at least 25 miles done before lunch. We started the day aiming for Wem but at lunch we joked about the fact that there was only 5 miles to go before we reached our aim. With this in mind we decided to go a bit further, one thing lead to another and before we knew it we were on about 49 miles. It seemed a shame not to break the 50 mile barrier so we pushed that little bit further so as to achieve our goal, and we broke it by a mile. Great determination from Jamie who seemed to be suffering from a lack of energy but he kept going and we all finished the day in high spirits.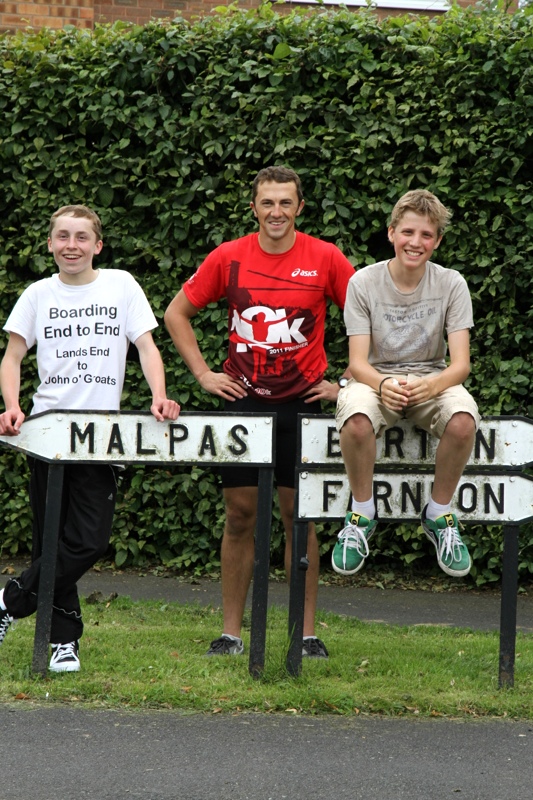 Day 10 – Sutton St. Nicholas to Broadstone – 33.7 miles
After making up the time we lost last week we had a much deserved lie in this morning. Today consisted of only one or two roads; luckily the surfaces were kind and the hills were gentle. We stopped for a lovely lunch at the Bell Inn in Yarpole and cracked on with it in the sunshine in the afternoon. Jamie fell over on the cycle path in Ludlow completing a hat trick of falls for the team and Alfie wore out his shoes. Another big day planned for tomorrow, passing through Shrewsbury and onto Wem. Many thanks to the Salweys for hosting us and providing us with an amazing meal. More Sunshine tomorrow please!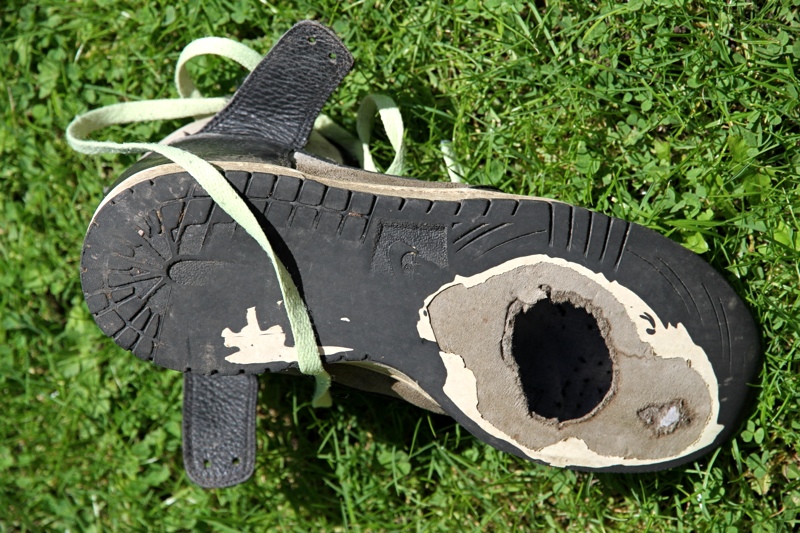 Day 9 – Chepstow Racecourse to Sutton St. Nicholas – 37.0 miles
Once again the weather forecast was appalling, but luckily it turned out fairly dry and we even had some sun which made a nice change to the norm. We started with a bit of a climb and at that point the day looked bleak but that all changed as we came across the perfect downhill – 4 miles of smooth road. This road took us through the most scenic landscape. As we progressed through Monmouth, the road we were due to go on to Hereford was closed and we were faced with a 10 mile detour, but thanks to Lawrence's parents who managed to persuade the contractors who were resurfacing the road to let us through. We then made great progress finishing just north of Hereford. Tomorrow we head for Ludlow.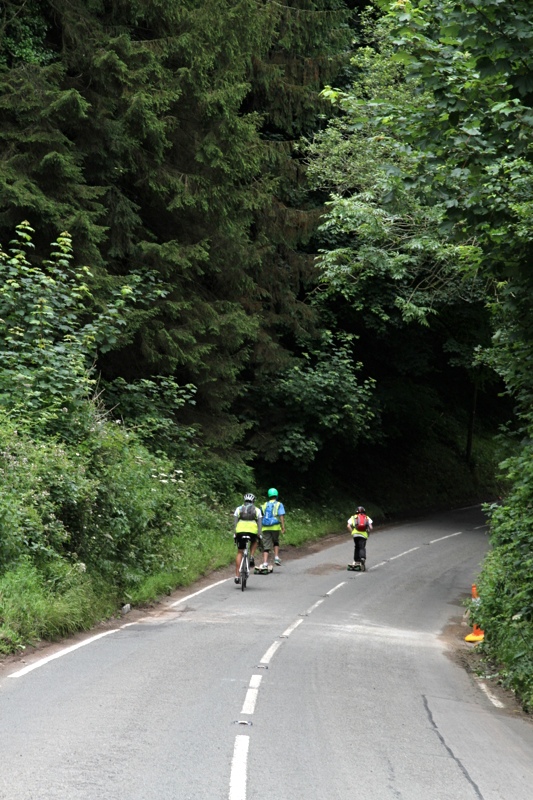 Day 8 – Wells to Chepstow Racecourse – 39.9 miles
Some tired legs this morning were greeted by a very long climb out of Wells. There was plenty of cloud cover and a few spots of rain. It looked like we had a tough day ahead. However, the road surfaces were smooth and we covered a lot of ground in the morning. We had a fantastic view of Bristol as we crossed the Clifton suspension bridge just before lunch. In the afternoon we skated along the cycle pathways towards Wales and crossed the Severn Bridge. Lawrence started speaking a funny language on the other side but we chose to ignore him. We finished at Chepstow Racecourse. Aiming to reach Hereford tomorrow.
Day 7 – Chard to Wells – 34.5 miles
In the morning we made slow progress managing only 14.5 miles before lunch. This was largely due to flood water; we knew it had rained hard yesterday, but we had expected it to have cleared by today. Unfortunately some rivers had burst their banks and as result a number of roads on our route were completely submerged. This meant at times we were wading through water that was knee deep. As the road surfaces improved so did our progress and we managed an amazing 20 miles in just over 2 hours ending the day by the cathedral in Wells. Tomorrow we are aiming for Wales – next stop Chepstow!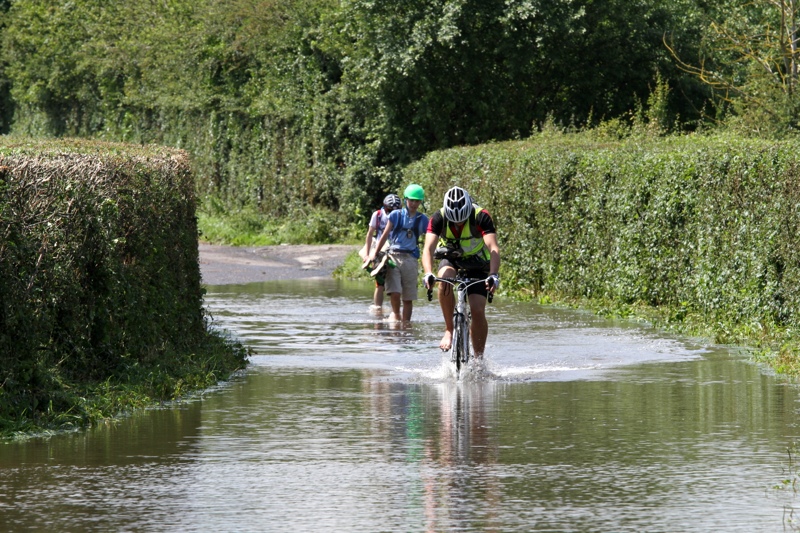 Day 6 – Rockbeare to Chard – 23.5 miles
We got caught out today by the floods that hit Devon and Cornwall and had to skate through over 3 inches of rainfall with a headwind just to make things that little bit harder. We managed a slow morning and by about 2 o clock we had done just over 23 miles which was impressive considering the conditions. There were a few places where the road had completely flooded and the boards were fully submerged under about a foot of water. In the end we had to stop in Chard because of the cold and retired to a warm house thanks to Tasha. Tomorrow we head for Street. Also a big thanks to Brian for being our driver for the last couple of days.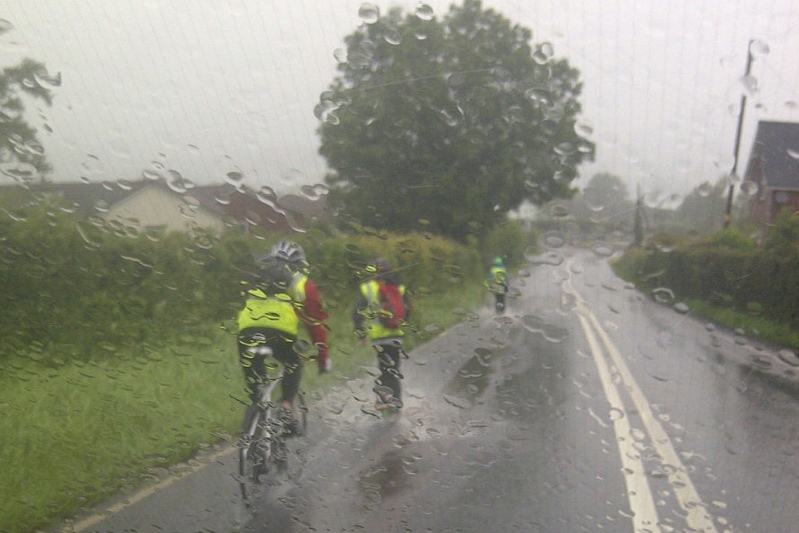 Day 5 – Dartmoor to Rockbeare – 43.6 miles
Today was the most hilly day on the whole trip, we crossed over the moors after Tavistock  and managed to get some miles done very early on. Alfie was feeling much better and thanks to a big breakfast and lunch we managed our longest day so far. We are relieved that we have been able to get some of the hardest hills done and we look forward to a relatively flat week. It was a great day skating with some very quick downhills and we are glad to make up for some of the mileage that we missed out the day before.
Day 4 – Tavistock to Dartmoor – 3 miles
Today was our only rest day on the trip, we tackled the first major climb onto the moors and didn't get much further then that. However the sun was out and despite the headwind on the top of the moors the weather stayed nice. After the climb was finished though, Alfie, who was still feeling ill was completely out of energy and so we made the decision to take the day off and head to Exeter by car. Hopefully a good afternoons rest will make all the difference for tomorrow. Many thanks to Patrick for having us to stay for the evening.
Day 3 – Lanreath to Tavistock – 28.3 Miles
After another damp morning session a few holes in the cloud opened up. For the first time we were given the chance to remove our rain coats and cruise along in T-shirts (a huge morale boost). We sat outside for Lunch in Kelly Bray and got a lot of interest from the locals. Thanks to the customers of the Swingle Tree for all their donations.  After lunch we crossed our first county border. We were welcomed into Devon by a mighty five hundred foot climb; luckily it was downhill nearly all the way into Tavistock for a finish in the sunshine. Many Thanks to Sarah and Peter for hosting us and treating us to a lovely meal with their friends, who made some very generous donations.
Day 2 – King Harry's Ferry, Feock to Lanreath – 31.6 miles
A tough day – 31.6 hilly miles in the rain – exhausting. On top of that, Alfie was feeling sick which made it extra tough for him. We stopped for lunch in Sticker – it must have been pensioners day in the pub, because we were the youngest by about 60 years! But we enjoyed their conversations about the internet. Finished the day in Lanreath – looking forward to tomorrow!!!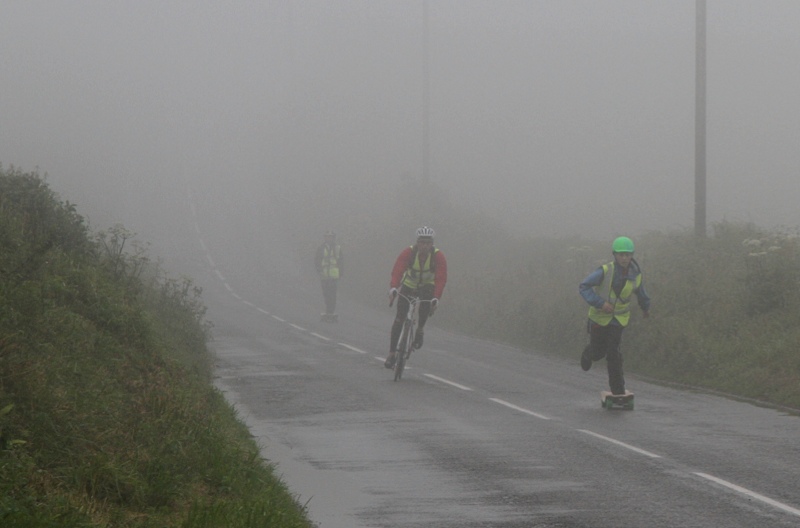 Day 1 – Lands End to King Harry's Ferry, Feock – 40.1 miles
Not the best start to the trip thanks to headwinds, rain and a bad nights sleep for Alfie. However, thanks to a big breakfast we managed to get some miles done. The first two hours were slow and we managed only 15 miles but the rain stopped and the wind died down and we were able to really get going. There were some difficult climbs but we were rewarded with the chance to use our sails. We finished up the day at The King Harry Ferry just south of Truro and were rewarded by a great meal from the Judson's. All in all a great day skating and we have reached £6,000 on our fundraising page – thanks again to all those who have donated.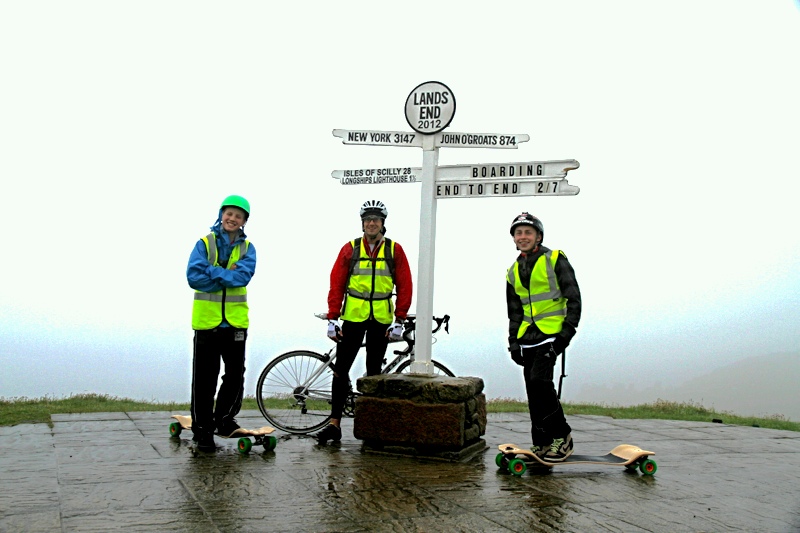 Day 0
On the way to Lands End at the moment, all the boards are setup and we are looking forward to our start tomorrow morning. A big thank you to all of our sponsors for providing us with all the kit for the trip. Also a big thank you to all of the people who have donated so far, we have raised over 5,500 and hope to reach our target of 10,000. For those who haven't donated yet there is still enough time to do so. The link is below.
http://uk.virginmoneygiving.com/fundraiser-web/fundraiser/showFundraiserPage.action?userUrl=alfiewienerandjamiemacdonald&faId=211862&isTeam=true